Welcome to Doe Creek Kennels (dog boarding and daycare), located on Doe Creek Farm, Giles County.
CONTACT US:(540) 293-4521 OR allison@doecreekkennels.com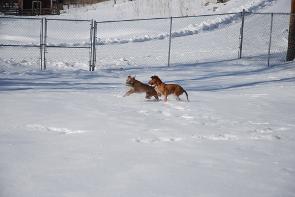 Pricing as of March 1, 2016
Boarding for one dog: $30/night for the first seven nights, $25/night on the eighth night and beyond.
Daycare for one dog: $20/day
(Pricing for boarding second and third dogs sharing a room has not changed.)
What makes us so special?
We are small. Full capacity is usually 10-14 dogs, rather than 50-60 at other kennels, ensuring your dog receives all of the special attention he needs and deserves.
Our low capacity means we also have a small staff (only 3 of us), so once your dog boards with us, we all get to know his personality immediately, and we aren't strangers when he returns.
Our rooms are large. Here, every family has a 10x10 room (not cramped crates) to allow for movement, comfort, and space for our provided twin bed and anything you pack for your dog(s). Each room also has a window and a ceiling fan.
We include hours of playtime in the daily schedule.
We have a large, fenced play yard where all dogs have space to run, play and explore.

Doe Creek Kennels
was voted#1 Best Pet Boarding in Southwest Virginia
by Virginia Living Magazine
2013, 2014, 2015
Thank you to everyone who voted for us!
Though you are welcome to drive by anytime, we do ask that you please call ahead to schedule a tour. We try to schedule those during the breaks when our guests are in their rooms so we don't interrupt their playtime. You are welcome and encouraged to bring your dog(s) with you!