Reservations:
For your convenience, we maintain a reservations calendar, in case you want to see whether we are OPEN, FULL, or CLOSED on the days you'd like to reserve.

Contact us: (540) 293-4521
IMPROVEMENTS
Both buildings have now been insulated and sided to make them easier to heat and cool and to ensure our clients' comfort in extreme weather. Thank you for your patience while we renovated.
WE ARE OPEN!


Doe Creek Kennels was voted

#1 Best Pet Boarding

in Southwest Virginia

by Virginia Living Magazine

(2013, 2014, 2015)
Thank you to everyone who voted for us!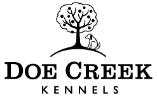 How to Choose the Right Boarding Kennel for Your Dog:
Below are a few tips from cesarsway.com for finding the right kennel for your dog.
1. Get recommendations. Ask friends, neighbors, co-workers, vets, groomers, trainers, or other dog professionals you trust.

2. Visit. Ask to see ALL the places where your dog will be spending time, including his room for the night and the exercise yard.

3. Assess the pack. The staff should be able to get your dog focused on what is there for him – and not leave him mourning over the fact that you left.
4. Ask questions about discipline, conflict resolution, exercise and emergency procedure. Remember, YOU are the client and WE (boarding kennels) want your business.

5. Prepare. Check vaccination requirements.
6. Trust your instincts. If something just doesn't feel right, find another facility. You want to feel confident that your pet will be safe and comfortable while you are away.